All Purpose All Season Carrier: Babies 7-45lbs
Baby Nest for Sleepy Time
Perfect for
On-The Go
Neptune Baby Carrier At A Glance
Neoprene Extremely Soft




Gentle on baby's sensitive skin
Will keep baby cool in the summer
Antimicrobial Pockets




Repels germs and mold growth
Waterproof




Take to the pool, beach or splash pad
Will keep baby warm in the winter
Easy & Simple Adjustments




Quick to snap on and take off.
Neptune Baby Carrier Exclusive Features!
Size inclusive

for all parents with a

60" waistband

:

longest on the market for a buckle carrier!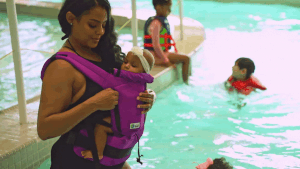 2 Stretch pockets & 1 Pocket with

a water resistant zipper

to hold important items: cell phone, wallet
The rollable hood

attached to the carrier can be used as head support, privacy barrier, items holder.
Important Notice: Our product features a water-resistant pocket, designed to protect your belongings from light splashes and moisture. However, please note that it is not intended for submerging your cell phone or exposing it to direct water spray at the top of the zipper where it is not a perfect seal. Submerging the pocket or exposing it to direct water at the top of the zipper may result in your items getting wet. Please exercise caution and use the pocket as intended to ensure the safety of your belongings.
What is so special about Neptune Baby Carrier?
Ideal for everyday activities or for family adventures such as hiking, yoga, or water play. We go where you want to go!
Made for comfort with a padded waistband and shoulder straps. This carrier will support your baby comfortably for long or short carries..
Stay warm. It functions well in cold weather and will keep your baby warm in low temperatures.
Created for all body types with added length to the waistband webbing this carrier can accommodate all sizes.
Draws air in and wicks moisture away
Neptune Baby Carrier's 3 in 1 Layer